The most affordable and easy to use Internet of Things shield family Launched and Featured on Kickstarter!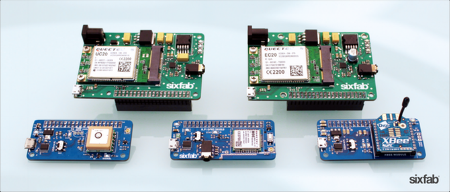 FOR IMMEDIATE RELEASE:

Contact Email: [email protected]

Austin, TX – November 17th 2016 – (SMWire™) –

About Sixfab

Sixfab is an Upstate New York based tech company founded in 2015 by an experienced team of engineers and makers… Sixfab is motivated by future generations better equipped to innovate and all Sixfab projects aim to facilitate this goal. The first product we released was the Tinylab. Tinylab brought many of the tools makers and students rely on together, in one portable "lab." Tinylab has already been a great success, with over 10k units shipped to over 60 countries and is used by students, teachers, engineers, and makers all around the world. With great feedback and motivation from its users, Sixfab will continue to produce and deliver tools of a more productive world.

The Team

Todd Lydig (CEO): A psychology professor, Todd is a maker at heart and develops coding and electronics curricula for schools and educational companies. He also works as a consultant for firms in educating their team members in order to embrace the maker mindset. Taha Arvas (CMO): A native of Syracuse, New York, Taha is a Bioengineer who has worked in designing cutting edge technology in experiences for the entertainment industry. It was the hardships he experienced integrating connectivity into his designs that spurred the birth of the IoT Family of Shields. Sait Borlak(CTO): Sait is an electrical engineer and developed the "Tinylab" prototyping tool along with his team of five electrical and computer science engineers. He is the quintessential "maker" and strongly believes in open source everything and technology for the sake of progress.

The idea behind IoT Shields

SBCs (Single Board Computers) are one of the most popular educational and prototype development and production devices. The Raspberry Pi is certainly the leader in this sphere. As the Internet of Things universe expands, SBCs are being used to facilitate connectivity. Unfortunately, SBCs are limited by their internal connectivity hardware. This restricts the variety and scope of projects that can be executed. The IoT Shield Family was designed as a solution to this problem. Now, connectivity is possible wherever, whenever, and at the fastest speeds. With added components to the design, we made it possible to use the IoT Shield Family not only with the Raspberry Pi but also with other popular devices.

What makes this product unique?

The Raspberry Pi IoT Shield Family we designed is much less expensive than comparable LTE shields and more importantly is much easier to use. No previous hardware experience is necessary to turn your Raspberry Pi into a mobile command center for your IoT project. There is no experience required to enter the world of IoT since we provide a computer interface, sample applications, and open source codes of the entire project design. So, our shields are super easy-to-use. We've done our best for you to get connected, right out of the box.

About the Sixfab Shields

The Raspberry Pi is awesome but internal Wifi and Bluetooth just don't cut it anymore. This is what everyone has been telling us. Everything's mobile and connectivity is king. So how do you supercharge your Pi? With blistering LTE speeds! We designed a Rasp Pi IoT Shield Family that's going to be the cornerstone of every maker's IoT project. If you want your Rasp Pi to truly be mobile and connected, this is the way to make it happen. Do you need GPS data for your Pi? We've got you covered with our GPS shield. Now you can track your kids, your car, your pets, or anything else you want to keep tabs on simply,easily, and inexpensively using your Raspberry Pi. Every IoT project will get jump-started with three speeds for mobile connection as well as an Xbee shield for connectivity where you can't get a signal. You can use it to track the level of a water reservoir miles away in the middle of nowhere or for countless other IoT projects that demand connectivity while off the grid. Truly connect whenever/wherever.

Perfect for entry into the world of IoT!

There is no experience required
to enter the world of IoT since we provide a computer interface, sample applications, and open source codes of the entire project design. We've done our best for you to get connected, right out of the box. With a 4G/LTE Shield, a 3G Shield, and a GSM/GPRS Shield, you will be connected to the internet from anywhere. Selecting the connection speed is up to you. GSM GPRS Shield is our leading actor, because it's like an All-in-one! Have a need for speed? We offer connectivity up to 100 Mbps with our 4G/LTE Shield and 14Mbps with 3G Shield. With our GPS Shield, all GPS data can easily be collected. Location, speed, and time can be used to derive much useful information… With excellent stability and sensitivity the GPS shield consistently provides high signal reception efficiency. The XBee Shield designed for XBee Modules by Digi allows seamless connectivity with all XBee products. Point to point communication up to 28 Miles, Wi-fi, Mesh network, in the home or over terrain, all at your fingertips. Choose your connection and Let's Connect!



Source Newswire: Social Media Wire™


***